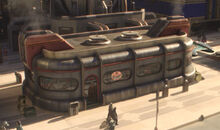 Dex's Diner, also known as Dexter's Diner, is a restaurant located on CoCo Town, an industrial area located in Coruscant. It owned and operated by Besalisk Dexter Jettster. The diner offered home-stlye cooked meals to workers from local areas. Dexter had 2 aids: Hermione Bagwa and a WA-7 waitress droid named FLO.
Shortly Before the Clone Wars, Jedi Knight Obi-Wan visited Dexter to see if he could identify a poisoned saberdart, which was from Kamino.
After the Battle of Endor, Dex's Diner was abandoned.
Appearances
Edit
Star Wars Episode II Attack of the Clones (First appearance)
Star Wars Aftermath (Mentioned only)
Sense of Right Alliance (Mentioned only)
Community content is available under
CC-BY-SA
unless otherwise noted.